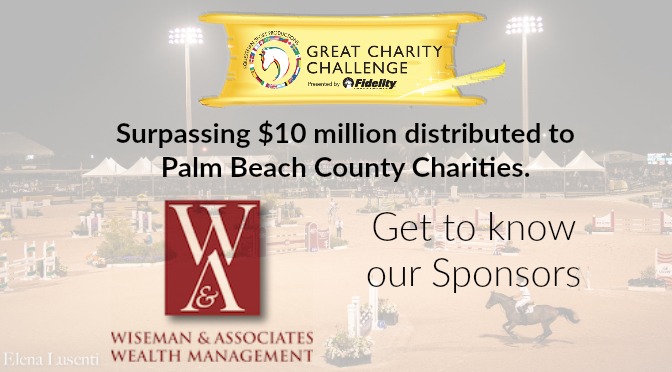 Welcome to Wiseman & Associates Wealth Management
Corporate sponsor of the 2017 Great Charity Challenge presented by Fidelity Investments®
In a nutshell, tell us who you are and what you do!
Hi!
I'm Tom Wiseman, Wiseman & Associates Wealth Management.
We are a firm based in Virginia and have been in business for 30 years.
To put it simply, we specialize in family office money management and estate transfer work.

How did you get to Wellington?
I came to Wellington for the first time 7 years ago, when I first met my wife Alexa Lowe, a show jumper. She told me that if I wanted to date her, I would have to follow her around the world. My first stop was Liege, Belgium and my second expedition was Wellington! You can imagine the contrast…
I'm a fox hunter at heart. I've always been involved one way or the other in the horse world so Wellington is a natural fit for me!
Alexa and I, along with our 4 year old son, William, have made our season home in Palm Beach Point and the rest of the year we live and work in Middelburg, VA.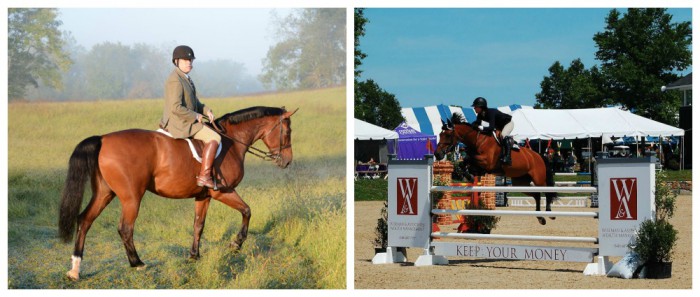 Why do you feel that participating in the Great Charity Challenge is important? How does this align with your business' vision?
That's a two-sided answer! On a macro level, so many of our clients are somehow related to equestrian sports that much of our philanthropic efforts seem to be pointed in that direction. On a micro level, the Great Charity Challenge gives us an opportunity to join with other like-minded individuals to give back to the local community.
We do a lot of this in Virginia as well. Wellington has been so good to us that we look forward to being more involved here!
Are you involved in other causes?
My wife Alexa has been heavily involved with a nonprofit called Wild Earth Allies. She has traveled extensively to see firsthand the conservation work that the organization partakes in.  We look forward to William being a bit older, so that we can spend some in Africa as a family.
We've held events here in our home in Wellington as well as in Virginia, with the hopes of educating and raising awareness for wildlife and conservation in general.
We hear you have a great relationship with your clients – is there a fun fact that you'd like to share with us?
Unlike other people in our business, we are holistically and intimately involved in our clients' lives. In many cases, we are working with the 3rd or 4th generation of our initial clients which is something very unique!
Thank you very much for your time and support Tom: it's been a pleasure getting to know you and we can't thank you enough for joining us as a corporate sponsor of the Great Charity Challenge presented by Fidelity Investments®.
For more information about Wiseman & Associates Wealth Management, please visit: www.wisemanandassociates.com
and follow them on Facebook: https://www.facebook.com/WisemanandAssociates/