For Immediate Release
Wellington, FL – December 19, 2020 – While contemplating the New Year brings a sense of renewed optimism for many, it may also bring many uncertainties for non-profit organizations who depend on the support of government grants, fundraisers, donors, for continuity of services in 2021, after a challenging year in 2020. For Palm Beach County charities, the
Great Charity Challenge
presented by
Fidelity Investments
®
(GCC) offers a glimpse of hope. Through the support of the equestrian industry and the local community, the event has acted as a catalyst for charitable giving over the last 11 years, distributing $14.8 million to 256 local non-profit organizations.
Founded by father/daughter team, Mark and Paige Bellissimo, in 2009, the GCC began as a way to increase funding to local non-profits following the 2008 economic crisis at a time when donations were scarce. COVID-19 once again challenged community resilience, replicating the difficult situation of 12 years ago.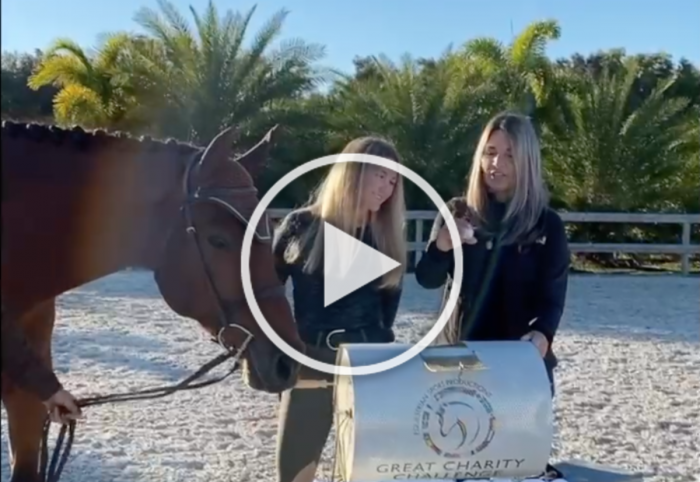 Click the image above to watch this year's charities being selected to participate in the 2021 GCC!
With 300 applications received for the chance to participate in the 12th Annual event, the drawing process brought hope, excitement, and entertainment for those who followed the GCC lottery drum's "travels" between Wednesday, December 9, and Tuesday, December 15, 2020. At stake? A share of the $1+ million prize that will be distributed on Saturday, February 6, 2021, at the Palm Beach International Equestrian Center (PBIEC) in Wellington, FL.
Mark Bellissimo, CEO of Equestrian Sport Productions, LLC, and co-founder of the Great Charity Challenge, commented, "Experts in all fields agree that the lasting effects of COVID-19 will be felt for months and years to come. While the logistics of hosting an event of this size are challenging, not holding this event in 2021 simply wasn't an option for our team at Equestrian Sport Productions and Wellington Equestrian Partners; we are all determined to make it happen!"
A total of 19 charities were randomly drawn throughout last week's festivities, in addition to the only automatic entry included in the event, representing the PTA/PTO/PTSAs of the 12 Wellington Public Schools.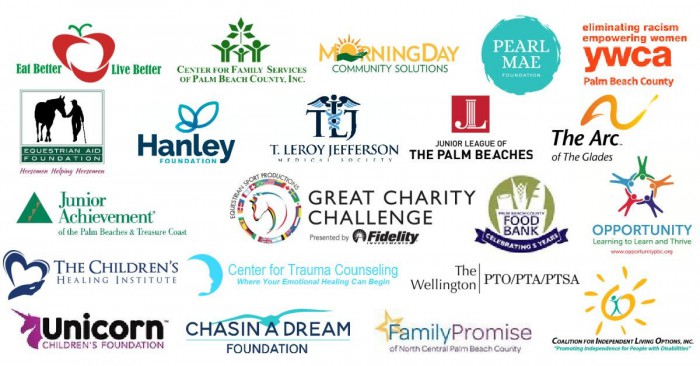 Twenty local charities were selected to receive funds from the 2021 GCC!
Click the photo above for more info on each organization.
The "traveling" selection format enables the GCC to highlight some of the individuals who make the event a reality, as well as those who support it in the community. Several team and corporate sponsors of the event assisted in the drawing process; these included Louisburg Farm, Forget Me Not Farm LLC, the Bowen Family, Silver Oak Stable, Equine Tack and Nutritionals, the Postage Stamp Farm Foundation, and Diamante Dressage.
Joining Anne Caroline Valtin, Executive Director of the GCC, were local community supporters including Wellington Mayor Anne Gerwig; Vice Mayor Tanya Siskind; as well as Village Council members Michael Drahos, Michael Napoleone, and John McGovern; Palm Beach County Vice Mayor Robert Weinroth; County Commissioners Greg Weiss, Maria Marino, and Melissa McKinlay; Chief of Staff Kelley Burke; as well as State Attorney Dave Aronberg.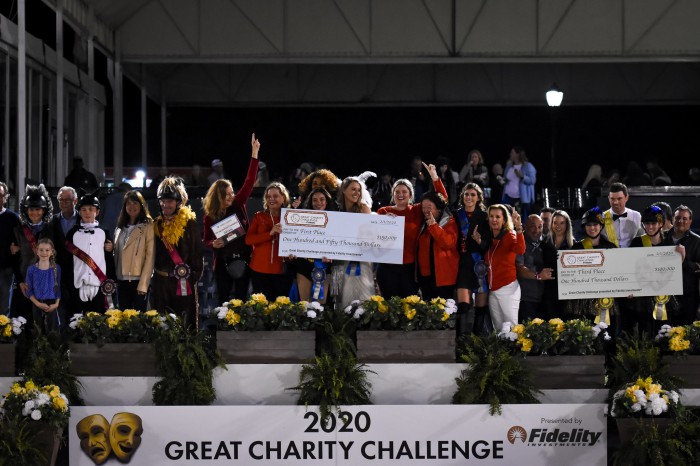 To date, the GCC has distributed nearly $15 million to worthy charities! ©ESP
Paige Bellissimo commented, "We felt it was important to adapt to these unprecedented times and focus on COVID-19 Relief and Recovery in 2021. All organizations who fit this 'Emergency Category' had the opportunity to be randomly drawn this past week. Those selected to date will participate in the main event, receiving at least $15,000 and up to $100,000. Smaller grants will also be awarded via a random selection process to non-profits who do not meet the above criteria but pass the GCC's vetting process. These grants will range between $1,000 and $10,000."
Debra Tendrich, Founder of Eat Better Live Better, commented, "We are so excited to have our organization selected! This is truly a blessing as there are so many families that need our services right now." Funds received through the GCC will support the organization's Grocery Assistance Program (GAP), which plans to deliver fresh produce and nutritious food to more than 2,500 low-income families in Palm Beach County in 2021.
"This is such wonderful news! Thank you for this opportunity. We are so excited and proud to be a part of 2021 Great Charity Challenge! Whether students return to the classrooms or to the kitchen tables, Junior Achievement has the programs needed to prepare our kids for their future. Funds are needed to reach our goal of serving 40,240 students this year, of which over 70% are eligible for free/reduced priced meals. Specifically, funds will go towards serving 7,000 kids through our Kindergarten-fifth grade programs budgeted to cost $125,287," indicated Gina Griffin, Director of Development at Junior Achievement of the Palm Beaches and Treasure Coast.
Future grant drawings will be held at random during the first weeks of the 2021 Winter Equestrian Festival and leading up to the evening of the GCC.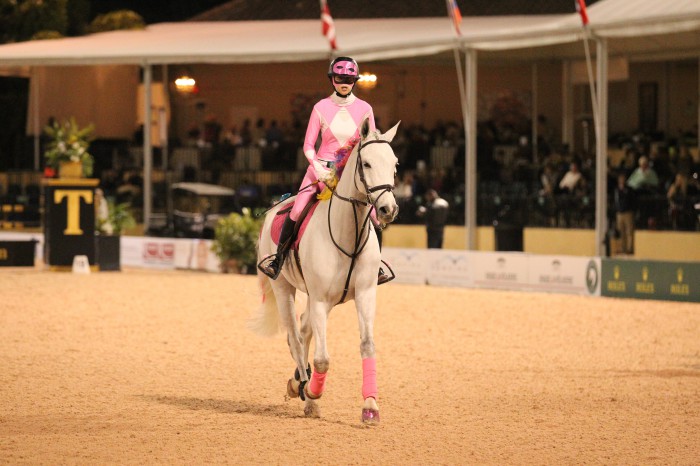 The 2021 GCC will return to PBIEC as a costume class on February 6, 2021. ©ESP
Equestrian Sport Productions (ESP), the PBIEC operating organization that oversees equestrian events at the venue throughout the year, donates the facility, staff, and infrastructure to ensure the success of the charitable event and guarantees that 100% of the funds raised are redistributed in the community.
Over the last six years, the relay-style show jumping competition has brought team spirit to a new level by incorporating themes into each yearly celebration. The public casted their vote leading up to this year's event. With riders dressed up in costumes and horses adorned to match them, this year's theme of "Heroes" will pay recognition to the everyday heroes that stepped up during the pandemic as well as those who have inspired us to push beyond our own limits and driven us to "dream bigger."
Donations and sponsorships from local families, foundations, businesses, vendors, exhibitors, and spectators, ranging from $50 to $50,000, are what make the event reach its fundraising goal of more than $1 million every year.
Customized sponsorship opportunities start at $500 while donations of all levels are welcomed; please visit:
https://gcc.coth.com/page/join-us
for additional information on how to become part of this movement and community effort.
Scheduled to take place during the 2021 Winter Equestrian Festival, on Saturday, February 6, 2021 at the PBIEC, organizations who have been pre-selected will virtually meet their paired equestrian teams and sponsors to receive a share of the $1+ million purse. To follow CDC guidelines and to prevent the spread of COVID-19, event updates will be shared via the event website:
www.greatcharitychallenge.com
as well as our social media pages:
Facebook
and
Instagram
. The event will be live streamed, starting at 7PM, at
www.PBIEC.com
.
About Fidelity Investments® 
Fidelity's mission is to inspire better futures and deliver better outcomes for the customers and businesses we serve. With assets under administration of $8.7 trillion, including discretionary assets of $3.4 trillion as of October 31, 2020, we focus on meeting the unique needs of a diverse set of customers: helping more than 32 million people invest their own life savings, 22,000 businesses manage employee benefit programs, as well as providing more than 13,500 institutions with investment and technology solutions to invest their own clients' money. Privately held for more than 70 years, Fidelity employs more than 47,000 associates who are focused on the long-term success of our customers. For more information about Fidelity Investments,
https://www.fidelity.com/about-fidelity/our-company
.
About the Winter Equestrian Festival
The Winter Equestrian Festival (WEF), known as the "Winter Equestrian Capital of the World," is the world's largest and longest running equestrian festival in the world, located in Wellington, Florida. The equestrian industry adds more than $100 million to Palm Beach County's economy each year and provides more 900 jobs for the area. WEF is the proving ground for the Olympic Equestrian sport of show jumping, as well as for the sport of dressage at the Adequan® Global Dressage Festival. WEF is run by Equestrian Sport Productions, which also operates the International Polo Club Palm Beach. For more information on WEF, please visit
www.PBIEC.com
.