JOIN US TO SUPPORT LOCAL NON-PROFITS:
Customized sponsorship opportunities start at $500 while donations of all levels are welcomed.
1. Join us as a team, corporate or grant sponsor. For more information on how to become part of this movement and community effort, please click here or contact Anne Caroline Valtin at 727-678-8677.
2. Donate ONLINE via https://unitedwaypbc.org/gcc/

For transparency purposes, the Great Charity Challenge presented by Fidelity Investments® (GCC) operates out of a gift fund. For the first time ever, the GCC is joining forces with a champion in the community: United Way of Palm Beach County, to accept online donations in the hopes of raising additional funds to support local charities.
3. Text "Give2GCC" to 41444
4. Make a charitable contribution via check: please make your check payable to: Fidelity Charitable Gift Fund. Memo: Great Charity Challenge.  Please mail to: Great Charity Challenge 14440 Pierson Rd. Wellington, FL 33414.
100 percent of the donations received online and directly made to the GCC gift fund will be re-distributed to Palm Beach County non-profit organizations.
#STRONGERTOGETHER
Based on a community needs assessment with the county, in partnership with local agencies and in direct response to the unique setting surrounding COVID-19, the event's 12th edition committed to shifting a majority of its funding priorities towards local non-profits who are directly supporting and assisting the most vulnerable and affected populations in Palm Beach County.
For Palm Beach County charities, the GCC offers a glimpse of hope. Through the support of the equestrian industry and the local community, the event has acted as a catalyst for charitable giving over the last 11 years, distributing $14.8 million to 256 local non-profit organizations.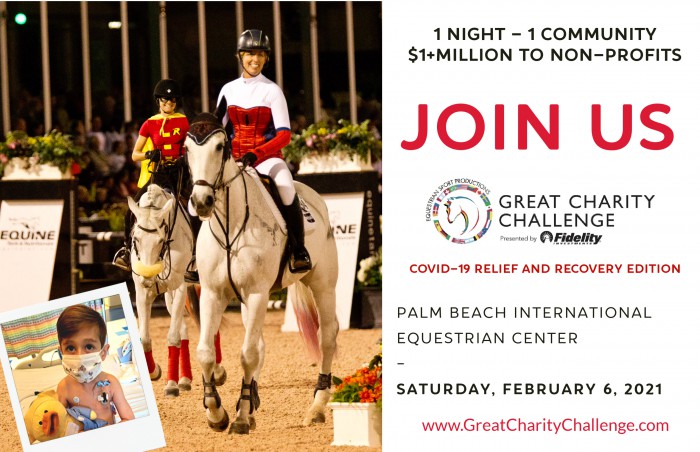 Scheduled to take place on Saturday, February 6, 2021 at the Palm Beach International Equestrian Center (PBIEC), the event plans to distribute an additional $1 million to local non-profit organizations.
Equestrian Sport Productions (ESP), the PBIEC operating organization that oversees equestrian events at the venue throughout the year, donates the facility, staff, and infrastructure to ensure the success of the charitable event and guarantees that 100 percent of the funds raised are redistributed in the community.
While the GCC has been extremely blessed by the generous support of the equestrian community to date, the current settings surrounding COVID-19 warrants for the event to extend its reach and partner with local change agents in the hopes of creating a broader impact during these challenging times.
Donations and sponsorships from local families, foundations, businesses, vendors, equestrians, and visitors, ranging from $5 to $50,000, are what will make the event reach its fundraising goal of $1+ million this year.