The Great Charity Challenge presented by Fidelity Investments® (GCC) application process is officially  closed. Thank you to the 300+ Palm Beach County based applicants who sent in applications.

We invite you to join us for the 2018 GCC Charity Drawing on Saturday, December 2, 2017 at the Palm Beach International Equestrian Center. FREE GENERAL ADMISSION AND PARKING.

All applied charities must have a minimum of two (2) representatives present during the drawing of the charities to be considered a valid entry. For a printable version of charity instructions, please click on the following link: 2018 GCC Charity Drawing Who What Where.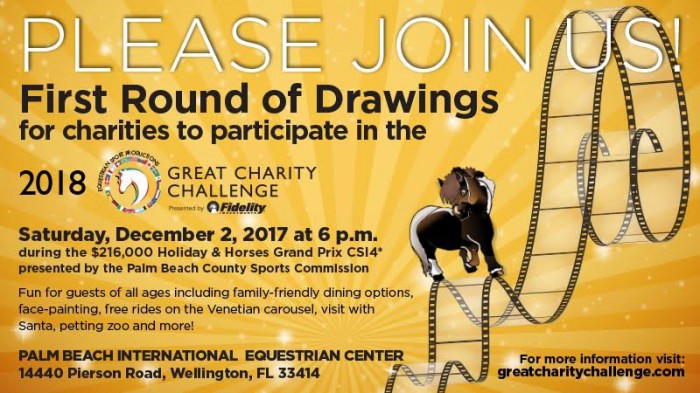 For more event details and the latest information, please click here.
Interested in applying next year?
Below are the basic eligibility requirements
Applicant organizations must fulfill all of the following:
(1) Have primary location in Palm Beach County.
(2) Have completed at least two years of operation within Palm Beach County as a not-for-profit organization.
(3) Have documented Internal Revenue Service not-for-profit, tax-exempt status 501(c)(3) or 501(c). A copy of your letter of determination from the IRS will suffice.  Questions regarding tax-exempt status should be addressed to: Internal Revenue Service Atlanta, GA 31101 Or call 1-800-829-1040
(4) Have a board of directors composed of at least one-half Palm Beach County residents, meeting on a regular basis.
(5) Must not be a unit of county or municipal government (e.g. public schools, library systems, city special events departments, etc.).
(6) Must be in attendance at the GCC drawing to be eligible for selection (2019 drawing date to be announced).
2018 Great Charity Challenge
presented by Fidelity Investments®:
Saturday, February 3, 2018