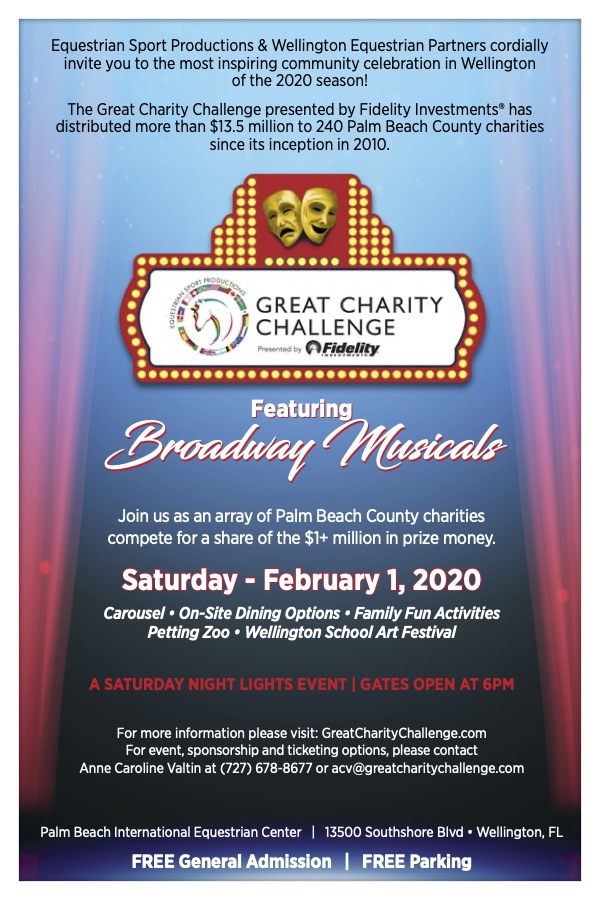 The GCC competition will offer free general admission and will be held Saturday evening, February 1, 2020, at 6:00 PM at the Palm Beach International Equestrian Center, during WEF's "Saturday Night Lights." Free parking will be located at 13500 South Shore Blvd., Wellington, FL 33414, home to the Adequan® Global Dressage Festival show grounds.
With riders dressed up in costumes and horses adorned to match them, this year's theme of "Broadway Musicals" will pay recognition to the wisdom commonly found in these plays. From "You can change the world if you change your mind" (Kinky Boots), "Even the darkest night will end and the sun will rise!" (Les Misérables) and "If you stand for nothing Burr, what will you fall for?" (Hamilton), all who attend the event will leave inspired to foster the change they wish to see in their own backyards.
An art contest and gallery involving all 12 Wellington public schools will highlight #NationalFreedomDay using recyclable materials. Displayed in the Wellington Gallery (Wellington Club or The Gallery?) at PBIEC, the event will be open to the public free of charge.
Interested in joining the event?
Donations and sponsorships from local families, foundations, businesses, vendors, exhibitors and spectators, ranging from $50 to $50,000, are what make the event reach its fundraising goal of over $1 million every year. Customized sponsorship opportunities start at $500, while donations of all levels are welcomed. Please visit https://bit.ly/2yFXPJQ for additional information on how to become part of this movement and community effort.
Non-profit organizations:
Thank you for your interest in joining us during the 2020 Great Charity Challenge presented by Fidelity Investments® (GCC).
The application process to participate in the 2020 edition is officially closed. Basic requirements include being Palm Beach County based, serving Palm Beach County (75% of funding must stay within the county) and having a minimum of 2 years of completed financials. Should you wish to be added to our email list to be notified for the 2021 edition, please contact: acv@greatcharitychallenge.com
For additional information, please contact:
Anne Caroline Valtin, Executive Director
Email: acv@greatcharitychallenge.com
Cell: 727-678-8677
For the latest event information, application process, and sponsorship opportunities, please visit www.greatcharitychallenge.com and follow the event on Facebook and Instagram at @greatcharitychallenge.