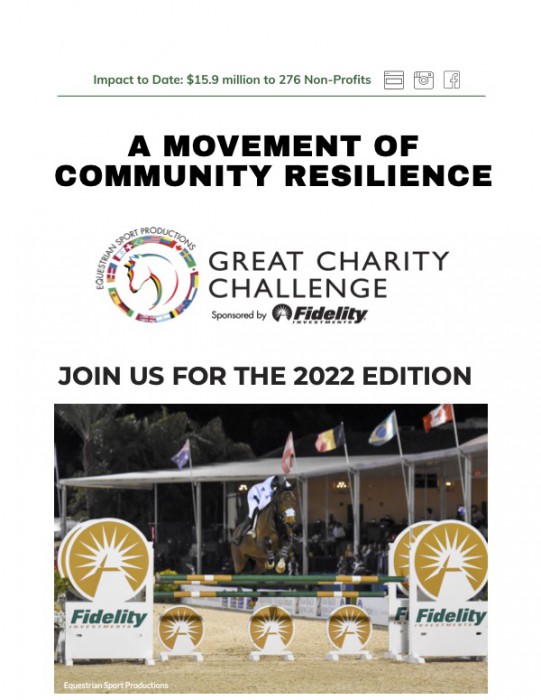 We invite you to save the date for the 13th Annual Great Charity Challenge sponsored by Fidelity Investments®, to be held on Saturday, February 5, 2022 at the Palm Beach International Equestrian Center. 
---
Join this Community Effort as a Donor/Sponsor
Donations and sponsorships from local families, foundations, businesses, vendors, equestrians, and visitors, ranging from $5 to $50,000, are what make the event reach its fundraising goal of $1+ million this year.  For additional information on how to join this community effort, a true tribute that we are #StrongerTogether –  please visit: https://bit.ly/3zlfjYX or contact Anne Caroline Valtin, Executive Director: acv@greatcharitychallenge.com or 727-678-8677.
---
Join this Community Effort as a Non-Profit
The application process for the 2022 GCC is officially closed. Applications were exclusively accepted between Monday, October 25, 2021 and Monday, November 15, 2021 (5 PM). Due to our vetting process, please note that we are unable to accept late entries.
We invite you to mark your calendar for the 2023 application process: October 25-November 15, 2021.
The Drawing of the Charities will be taking place throughout Palm Beach County between Monday, December 6 and Saturday, December 11, 2021. To view an updated schedule of drawings, we invite you to view our social media pages: Facebook and Instagram.
Please note that ONLY drawn non-profits are displayed (and not the full list of applicants) via our website. To view the list, please click here.
---
Additional Opportunities
Thanks to the generous support of our donors, additional opportunities to receive funding include the Volunteer Initiative, presented by the Doyle Family Foundation, as well as the #BootsForBooks initiative .
The Volunteer Initiative is generously presented by the Doyle Family Foundation and will award ten (10) $3,000 grants to non-profit organizations whose volunteers submit a 1 min video explaining the organization's mission and why they are involved with them. For additional information and guidelines, please click here.
The #BootsForBooks initiative is solely focused on promoting literacy.  For additional information,  please click here.
Important Note: Organizations must have applied to the 2022 GCC and passed the vetting requirements in order to participate in the opportunities listed above.
---
If you are looking for additional information or have any questions/comments, please contact Anne Caroline Valtin, Executive Director: acv@greatcharitychallenge.com or 727-678-8677