A YEAR OF IMPACT IN REVIEW –
$1.8 Million at Work
For Immediate Release
Wellington, FL – September 23, 2022 – The 13th Annual Great Charity Challenge sponsored by Fidelity Investments® (GCC), held at Wellington International during the 2022 Winter Equestrian Festival (WEF), raised a record $1.8 million for worthy non-profit organizations in Palm Beach County. People of all ages came together back on February 5th to celebrate a night of exciting show jumping competition that blended equestrian sports and philanthropy, along with the incredible impact these funds would return to their community.
This record-breaking year became reality thanks to the generous support of 87 sponsors, donors, and partners. A total of 85 non-profit organizations benefitted from the night, impacted the lives of 79,046 people since the event in February.
"Witnessing this event's growth, especially post-pandemic, is truly inspiring," commented Anne Caroline Valtin, Executive Director. "With obvious needs developing as a direct result of the pandemic, many donors and supporters really stepped up to make a difference. We are simply beyond grateful for their generosity and support."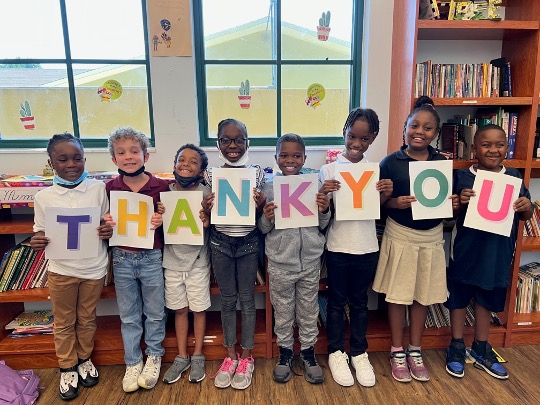 The $1.8 million was distributed between a diverse group of non-profits. How did these funds address their unique needs over the past year?
Joe DiMaggio Children's Hospital (JDHC) put its GCC funds towards the purchase of medical equipment to meet the needs of its patients. Auditory Brainstem Equipment and Pediatric hearing aids have been successfully purchased, and the hearing aids already contributed to inspiring success stories. JDHC was also able to create and implement a new Outpatient Nutrition Program with the help of GCC funding.
The cost of housing has risen dramatically, and there is a greater need for affordable housing in our community. The Homeless Coalition, with the help of GCC, was able to help combat this problem and provide housing for up to 5 families, or 10 individuals with their $25,000 grant!
For Special Olympics Florida, horses were the gift that kept on giving this year. Thanks to horses and riders alike competing on the night of the GCC, Special Olympics was able to provide 200 athletes in Palm Beach County the opportunity to compete in Dressage, English Equitation, Working Trails, Pole Bending, Barrel Racing, Showmanship, and more, free of charge! These funds helped them purchase riding helmets, uniforms, boots, lessons, training time, and travel to major competitions. Horses not only earned them their $21,000 grant, but also provided incredible therapeutic services to their athletes.
Janice Reardon from Special Olympics Florida commented, "Our athletes gain confidence, self-efficiency, communication skills, trust, impulse control, and learn about boundaries and respect. We know that the Equestrian Program is so much more than riding and competition; with your support, we are confident we will elevate this program to new heights and continue to showcase the abilities of our athletes."
We invite you to view the collective impact of $1.8 million that was allocated to 85 local non-profit organizations, all made possible thanks to the generous sponsors and donors of the GCC. To view the full report please visit https://bit.ly/3QW3rVS or click on the image below.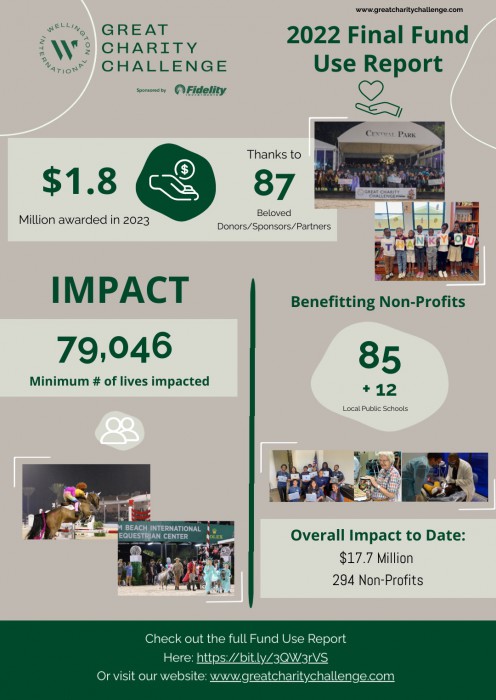 Looking for quick access/review? Here are some helpful guidelines:
Hosted every winter at Wellington International, the GCC has become a highlight of the WEF, distributing over $17.7 million to 294 local organizations in 13 years.
SAVE THE DATE:
The 14th Annual GCC will be held on Saturday, February 4th, 2023. Applications for the event will be exclusively open between Monday, October 31, through Tuesday, November 15, 2022.
To stay up to date, we invite you to follow us on Facebook: @greatcharitychallenge and Instagram: @great_charity_challenge
For additional information about the event, including donation and sponsorship information, please visit www.greatcharitychallenge.com
About Fidelity Investments®
Fidelity's mission is to inspire better futures and deliver better outcomes for the customers and businesses we serve. With assets under administration of $10.5 trillion, including discretionary assets of $4.0 trillion as of July 31, 2022, we focus on meeting the unique needs of a diverse set of customers. Privately held for over 75 years, Fidelity employs more than 58,000 associates who are focused on the long-term success of our customers. For more information about Fidelity Investments, visit https://www.fidelity.com/about-fidelity/our-company.
About the Winter Equestrian Festival
The Winter Equestrian Festival (WEF) is the world's largest and longest-running equestrian festival in the world, located in Wellington, Florida. Held at Wellington International, the 13-week competition features classes for all ages and levels ranging from beginners on ponies to Olympic champions at the elite level, as well as daily hospitality options for spectators and fans. WEF is managed by Equestrian Sport Productions, which is a part of the Global Equestrian Group. For more information, please visit equestriansport.com.