Great Charity Challenge
presented by Fidelity Investments®
- $14.8 million to 256 Palm Beach County Charities -
Founded by father/daughter team, Mark and Paige Bellissimo in 2009, the Great Charity Challenge presented by Fidelity Investments® (GCC) came forward as a way to increase funding to local non-profits, following the 2008 economic crisis, at a time when donations were scarce.
In its first year, the event generated over $400,000, benefiting 24 local charities. Today, the event has grown to benefit over 30 local charities competing for over $1+ million each year.
---
Professionalism: We are "Impact Driven".
Through partnerships with Fidelity Investments® and Bank of America, our vetting and granting process are strict and thorough, ensuring that benefiting non-profits are impactful as well as financially and operationally secure.
Transparency: Charities Receive 100% of Donations. 
The Equestrian Sport Productions management team, who oversees and organizes the Winter Equestrian Festival, takes on all the expenses associated with the event, ensuring your donations go straight to work.
Impartiality: A Lottery Style Selection Process. 
To guarantee full transparency, participating non-profits are assigned a "lottery ball" that is thrown in a raffle drum. All drawings are done publicly.
Bridging the Gap: Uniting Local Communities.
The event is a true team effort, uniting the equestrian and local communities to foster the change they wish to see in their own backyards.
---
Having distributed $14.8 million to over 256 Palm Beach County non-profit organizations to date, the team at the Palm Beach International Equestrian Center (PBIEC) has witnessed how partnerships have the power to shape communities and create a genuine impact.
Leading up to its twelfth annual event, the GCC is calling out to individuals, families, foundations and businesses to unite and support those that work tirelessly to better serve Palm Beach County's most vulnerable.
OUR GOAL FOR 2021: distribute an additional $1 million in one evening. 
Are you impact-driven and community-focused?
"Joining the GCC team means that you believe in #StrongerTogether. With so many worthwhile organizations in our community and so many 'asks for support', the idea of selecting one single cause can feel overwhelming" mentions executive director Anne Caroline Valtin. "From our vetting process in partnership with Bank of America, to our unique model of redistributing 100% of donations received, thanks to Equestrian Sport Productions' generosity of covering all costs associated with this community effort, coupled with a year-long reporting process, joining us a donor or sponsor means that your donation will create the most influential impact in the community."
JOIN US TO SUPPORT LOCAL NON-PROFITS:
1. Join us as a team, corporate or grant sponsor. For more information on how to become part of this movement and community effort, please click here or contact Anne Caroline Valtin at 727-678-8677.
2. Donate ONLINE via https://unitedwaypbc.org/gcc/

3. Text "Give2GCC" to 41444
For transparency purposes, the GCC operates out of a gift fund. For the first time ever, the GCC is joining forces with a champion in the community: United Way of Palm Beach County, to accept online donations in the hopes of raising additional funds to support local charities.
4. Make a charitable contribution via check: please make your check payable to: Fidelity Charitable Gift Fund. Memo: Great Charity Challenge.  Please mail to: Great Charity Challenge 14440 Pierson Rd. Wellington, FL 33414.
100 percent of the donations received online and directly made to the GCC gift fund will be re-distributed to Palm Beach County non-profit organizations.
---
HOW CHARITIES COMPETE:
The GCC is a relay style equestrian jumping competition with teams consisting of two junior/amateur riders combined with one Olympic or world-class rider. 20+ rider teams are randomly paired with 20+ charities that serve Palm Beach County. Additional grants are drawn the night of the event, adding up to a grand total of 50 benefiting non-profits benefiting from the event.
Scheduled to take place on Saturday, February 6, 2021, the 12th annual Great Charity Challenge presented by Fidelity Investments® (GCC) will not allow general public spectators due to the COVID-19 protocol at the Winter Equestrian Festival.
For additional information on how to join us virtually, please click here.
100% of all proceeds go straight to benefit charities
The winning team of riders will be awarded $100,000+ for its charity
Every charity selected will win a guaranteed minimum of $15,000
Not a selected charity for the Challenge, don't panic. In addition to the selected 20+ teams, we hold random drawings and award grants to deserving charities who applied to participate in that year's Great Charity Challenge (ranging from $1,000 to $10,000).

---
MEASURED COMMUNITY IMPACT:
In its first 11 years, the Great Charity Challenge presented by Fidelity Investments
®
distributed
$14.8 million to over 256 Palm Beach County Charities.
Every charity selected to compete in the Great Charity Challenge is guaranteed to win a donation to support their cause. All participating charities are required to utilize 75% of their funds in Palm Beach County, so these donations directly impact the community.
To view a full list of charities and donations received since the beginning of the Challenge, please click here.
The GCC review committee compiles fund use reports every quarter following the event. We invite you to view the following compiled fund use report (published in September 2020):
For ease of review, fund use reports are further divided into three categories:
– the organizations who were randomly paired with riders and who competed in the event (and received between $15,000 and $150,000 in funding): CLICK HERE.
– the organizations who were randomly drawn to receive grants: CLICK HERE.
– and the organizations who received grants through the generous support of the Ziegler Family Foundation: CLICK HERE.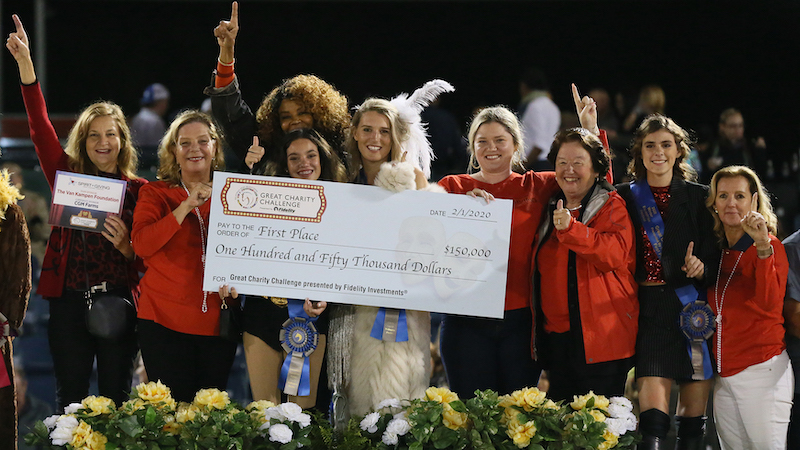 ---
EMERGENCY GIVING GUIDE:
Published in April 2020
To join the fight against Coronavirus, COVID-19 and support the local community, the Great Charity Challenge presented by Fidelity Investments® (GCC), a Wellington-based show jumping competition that blends equestrian sports and philanthropy, created a Palm Beach County Emergency Giving Guide featuring 83 local organizations that were boots on the ground, assisting the most vulnerable populations.
The evolution of the Coronavirus, COVID-19, globally, nationally and locally affected each of us in ways we couldn't have previously imagined.
As mentioned by West Palm Beach Mayor Keith A. James: "The economic effects of COVID-19 are catastrophic. Therefore, we must do what we can to support our citizens, including our most vulnerable…"
Recognizing that these unprecedented times called for an unprecedented approach to community support, the GCC realized it was crucial to connect donors and supporters with non-profit organizations who were providing critical support during the COVID-19 epidemic.
From child welfare, emergency educational support, homelessness support, medical support and more, donors and supporters could easily view what organizations are doing, the challenges they are facing and see what their immediate needs are.
To view the guide, we invite you to visit: https://bit.ly/3bJw6Ju or click on the photo below.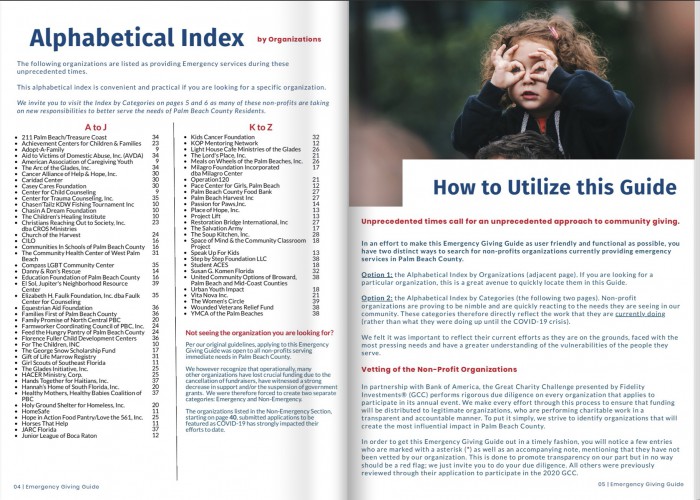 ---
If you would like to inquire about applying for the GCC or have any questions/comments, please contact Anne Caroline Valtin, Executive Director: acv@greatcharitychallenge.com or 727-678-8677