#STRONGERTOGETHER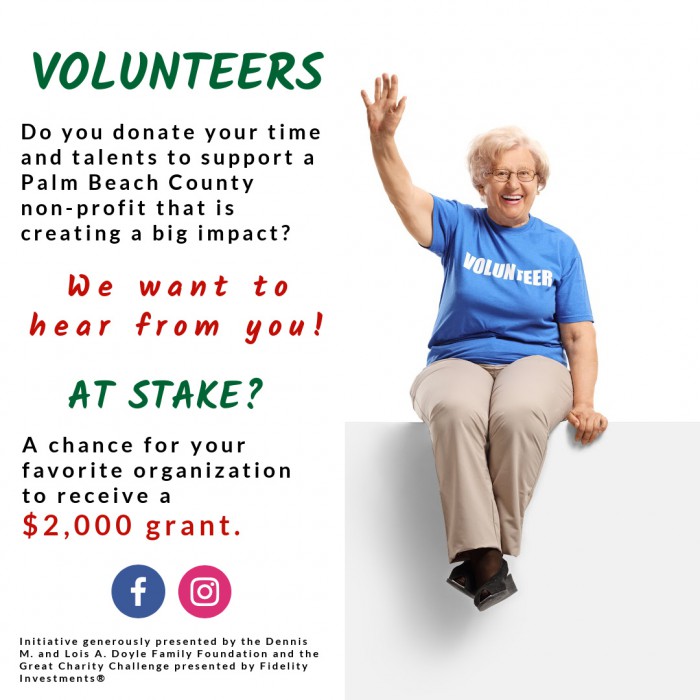 Understanding that volunteers are at the heart of charities, the Dennis M. and Lois A. Doyle Family Foundation launched an initiative to empower those who donate their talents, time and resources to support the mission of Palm Beach County non-profit organizations.
In partnership with the Great Charity Challenge sponsored by Fidelity Investments® (GCC), the Family Foundation made a generous $10,000 donation that was matched, resulting in the opportunity for ten lucky organizations who are making a difference in our community to receive a $2,000 grant leading into the New Year.
On behalf of the GCC and Doyle Family Foundation, we wish to thank all volunteers who submitted videos, showcasing their support for local non-profit organizations.
"Everybody can be great. Because anybody can serve. You don't have to have a college degree to serve. You don't have to make your subject and your verb agree to serve. You don't have to know the second theory of thermodynamics in physics to serve. You only need a heart full of grace. A soul generated by love." – Martin Luther King, Jr.
Meet the ten lucky grant 

recipients, introduced on January 1, 2021

:
– The Alliance of Women Executives
– Faulk Center for Counseling
– Florence Fuller Child Development Centers
– Help Our Wounded Foundation
– JDRF
– Kayla Cares 4 Kids
– Nicholas and Christen Thompson Foundation
– Sea Turtle Adventures
– Speak up for Kids
– Unified Dream
Guidelines on how they participated:
Do you volunteer for a Palm Beach County non-profit that is creating a big impact? We want to hear from you!
Tag us on social media post (NOT STORY) in a 1-minute video (max) between December 15 and December 29, 2020, explaining why you are involved with the organization as well as the charity's mission! Don't be afraid to make these fun and share some energy! The better the post, the more chances of it catching people's attention (and therefore raising the visibility for your organization).
Facebook: @greatcharitychallenge
Instagram: @great_charity_challenge
Winners were notified along with the non-profit they represented on January 1, 2021.