With so many options and opportunities to support non-profit organizations, how do you choose "just one?"
Welcome to the Great Charity Challenge presented by Fidelity Investments® (GCC), an event founded in 2010 that has distributed  $12.2 million to 230 Palm Beach County nonprofit organizations.
Please join other generous sponsors as the GCC hosts its 10th annual event at the Palm Beach International Equestrian Center, on Saturday, February 2, 2019, during the 2019 Winter Equestrian Festival.   With organizations benefiting and assisting foster children, seniors, low income families, veterans, animals and much more, you will be sure that your support of the event will better Palm Beach County as a whole. A full list of recipients and benefiting charities to date can be viewed via: https://gcc.coth.com/page/about-the-gcc
Winter Equestrian Festival (WEF) in numbers:
10,000 exhibitors on a weekly basis (including horse owners, trainers, riders, supporters & staff)
3,000 horses with a net value of well over a billion dollars
100 acre equestrian show complex
Representatives of 30 countries and 49 states, many of whom travel weekly back and forth from all over the United States to partake in the WEF.
Be a Community Role Model and reach over 6,000 spectators
ALL SPONSORSHIPS ARE 100% tax deductible
TEAM SPONSORS
$25,000 Donation – Create a team of 3 riders to compete in the GCC (jumping height: 1m30, 1m20, 1m10) – Opportunity to join us during the Drawing of the Charities and assist in randomly selecting the participating organizations – VIP Table of (6) in the International Club on Saturday February 2, 2019 – Exclusive invitation to the pre-party – Opportunity to have farm/business logo on the jumbotron during the event – Recognition on printed materials including signage and event program, 1 year presence on event website – Randomly paired with charity and corporate sponsor – Full updates from your charity for 1 year – Costume team competition awards

CORPORATE SPONSORS
All Corporate Sponsorships include logo placement on the GCC website (through November 1, 2019) as well as signage around the facility the week of the event. Opportunities can be fully customized to fit your needs/vision and assist you in reaching your target market.

$10,000 Sponsorship - Includes all $5,000 benefits – Random pairing with a participating charity and team sponsor – Full page ad in the event program – Logo display on jumbotron and company introduction via the PA system on the evening of the event – Extensive social media exposure via WEF pages and paired charity through 2018- Jump presence in the International Ring the night of the event (if applicable).
$5,000 Sponsorship - Sponsor Spotlight Post via the WEF & PBIEC Facebook pages – Half page ad in the event program – Reserved seating for (6) in the VIP International Club, which includes dinner and open bar service – Opportunity to network at the event pre-party presented by Fidelity Investments® with other sponsors and participating charities.
$2,500 Sponsorship - Reserved seating for (8) in a private box on the evening of the event
$1,000 Sponsorship - Reserved seating for (4) in private reception area on the evening of the event.
$500 Sponsorship - Reserved seating for (2) in private reception area on the evening of the event.

Some of our existing and past GCC Corporate Sponsors include: Fidelity Investments®, Bank of America, the Bainbridge Companies, Sexton Engineering, Rosenbaum Mollengarden LLP, Rolex, Dever Golf Cars, Enterprise Holdings and many more.
A full list of our 2017 sponsors can be viewed by clicking here.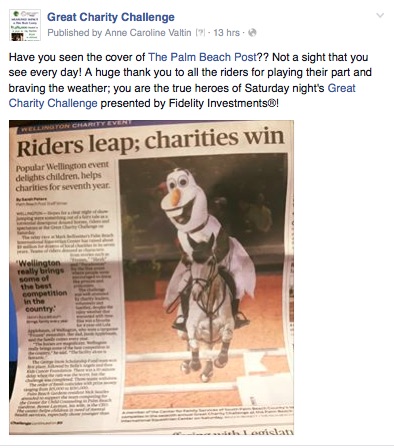 To print Sponsorship options, please click here.
After you have had a chance to review the information enclosed, Anne Caroline Valtin, Executive Director of the GCC, will be happy to answer any questions you may have as well as assist you in designing your very own custom sponsorship package. She can be reached directly at: 727-678-8677 or acv@greatcharitychallenge.com