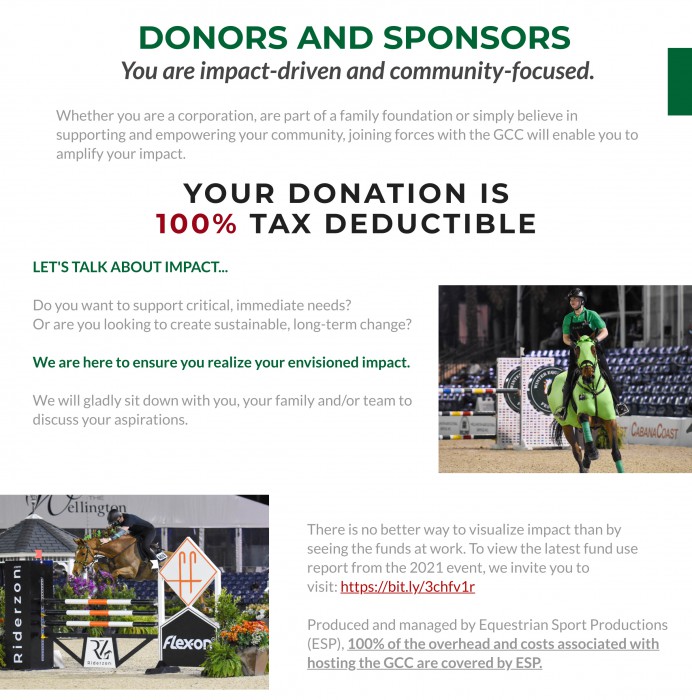 "Joining the GCC team means that you believe in #StrongerTogether"!
With so many worthwhile organizations in our community and so many 'asks for support,' the idea of selecting one cause can feel overwhelming. From the GCC's vetting process in partnership with Bank of America, to its unique model of redistributing 100% of donations received – thanks to Equestrian Sport Productions' generosity of covering all costs associated with this community effort, coupled with a year-long reporting process – joining us a donor or sponsor means that your donation will create the most influential impact in the community.
Donations and sponsorships from local families, foundations, businesses, vendors, exhibitors, and spectators, ranging from $50 to $50,000, are what make the event reach its fundraising goal of more than $1 million every year.
Customized sponsorship opportunities start at $500 while donations of all levels are welcomed. We invite you to view our sponsorship and event overview below.
Details of the 2022 edition will be available in the summer of 2021. Please fill out the following form with your contact information so that we may reach out to you shortly: https://forms.gle/jR6Xmf5AsYRxnpEAA 
For additional information, please contact:
Anne Caroline Valtin, Executive Director
Email: acv@greatcharitychallenge.com
Cell: 727-678-8677