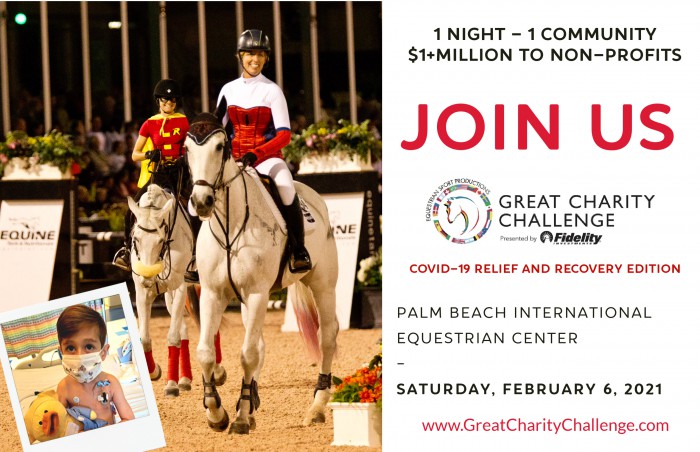 Founded by father/daughter team, Mark and Paige Bellissimo in 2009, the Great Charity Challenge presented by Fidelity Investments® (GCC) came forward as a way to increase funding to local non-profits, following the 2008 economic crisis, at a time when donations were scarce.
Are you impact-driven and community-focused?
"Joining the GCC team means that you believe in #StrongerTogether"!
With so many worthwhile organizations in our community and so many 'asks for support,' the idea of selecting one cause can feel overwhelming. From the GCC's vetting process in partnership with Bank of America, to its unique model of redistributing 100% of donations received – thanks to Equestrian Sport Productions' generosity of covering all costs associated with this community effort, coupled with a year-long reporting process – joining us a donor or sponsor means that your donation will create the most influential impact in the community.
Donations and sponsorships from local families, foundations, businesses, vendors, exhibitors, and spectators, ranging from $50 to $50,000, are what make the event reach its fundraising goal of more than $1 million every year.
Customized sponsorship opportunities start at $500 while donations of all levels are welcomed. We invite you to view our sponsorship and event overview below.
Due to the unique setting surrounding COVID-19, the event's 12th edition is committed to shifting a majority of its funding priorities to support local non-profits who are directly supporting and assisting the most vulnerable and affected populations in Palm Beach County.
We would like to invite you to join other generous sponsors as the GCC will host its 12th annual event at the Palm Beach International Equestrian Center on Saturday, February 6, 2021.
After you have had a chance to review the event and sponsorship information by clicking on the photo above, we will be happy to answer any questions you may have, as well as assist you in designing your very own custom donation/sponsorship package. We are here to ensure you realize your envisioned impact.
For additional information, please contact:
Anne Caroline Valtin, Executive Director
Email: acv@greatcharitychallenge.com
Cell: 727-678-8677
A limited number of VIP tables are available, please contact us for more details.