Welcome to our inaugural Pet Parade and Costume Contest, generously presented by the Postage Stamp Farm Foundation
Celebrating the Power of "Doing Good", at any age, at the 2022 Great Charity Challenge sponsored by Fidelity Investments®
The Pet Parade and Costume Contest is generously presented by the Postage Stamp Farm Foundation so that YOU can make an impact. By dressing up with your favorite pet, you can support a local organization whose mission is to help others.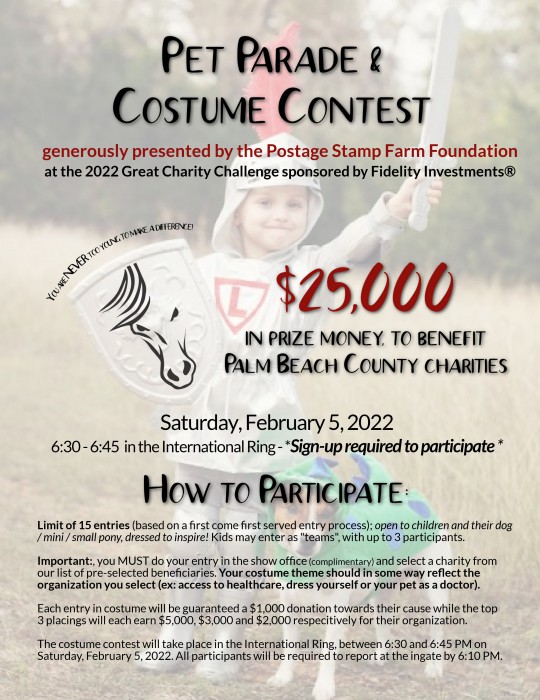 Important notes to participate:
Sign-up is required to participate!
There is a limit of 15 entries, based on a first come first served basis, to be done in the WEF show office with Jenn Glosson or by contacting Anne Caroline Valtin at 727-678-8677.
When doing your entries, you must select a charity to represent from our list of organizations (featured in the show office). Please note that no other organizations can be added to this list.
Looking to join forces with your friends? You can participate as a "team"; a maximum of 3 participants are allowed per entry.
How to dress up/costume guidelines: we request that your costume reflects, in one capacity or another, the organization you chose to represent. A list of ideas will be submitted to you upon your entry in the show office.
Each entry will be guaranteed a $1,000 donation towards the cause they represent.
Top 3 placings will earn a $5,000, $3,000, and $2,000 grant for their chosen organization, respectively.
You must report to the ingate of the International Ring on Saturday, February 5, 2022, by no later than 6:10 PM. Please note that you should use the path leading up to the ingate and not cross the warm-up ring. The parade in the ring will be organized by "size", from the smallest pet to the largest.
Do you have additional questions? Contact us via email at acv@greatcharitychallenge.com or via text at 727-678-8677.